The 2020 Jeep Grand Cherokee Combines Distinctive Luxury with Rugged Performance
One of the most popular SUVs of all-time is known as the Jeep Grand Cherokee. This amazing automobile has been around for decades, and it has certainly gotten better with age. The 2020 Jeep Grand Cherokee is a class act because it displays sophisticated looks, has technological advancements and is built to perform at a high level on and off-road. Here's a better breakdown for what SUV enthusiasts can expect from this marvelous machine.
Performance & Features
The 2020 Jeep Grand Cherokee will offer drivers a number of distinct drivetrains. If you want to unleash the power of this SUV, you'll want to opt for the new Jeep Grand Cherokee Trackhawk. With the available 6.2-liter V8 engine, this beast as it cranks out 707 horsepower. In addition to that, this supercharged engine will produce up to 645 pound-feet of torque. Drivers can tow as much as 7,200 pounds. Other components included are powder-forged connecting rods, forged-alloy pistons and sodium-cooled exhaust valves.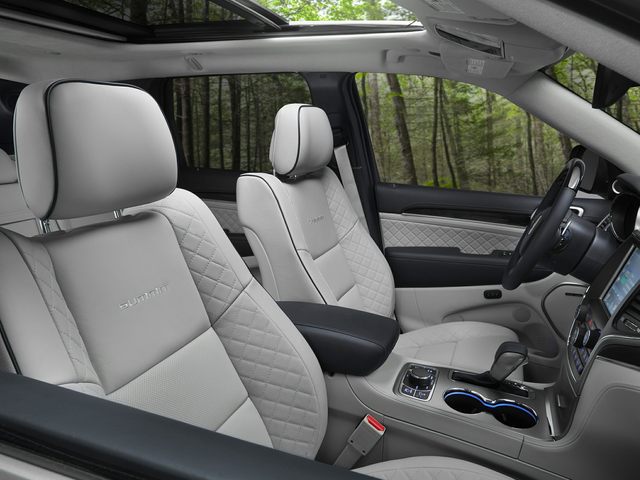 There's also an available 6.4-liter V8, but it's not supercharged. Drivers can get up to 475 horsepower as well as 470 pound-feet of torque. The SUV's Drive Mode Selector allows you to drive in specific modes, including sport, track, and tow. You'll also get on-demand four-wheel drive. Towing limits is maxed out at 7,200 pounds.
The new Jeep Grand Cherokee offers premium finishes and woodgrain accents in the interior. This particular cabin can seat as many as five people quite comfortably. This first-rate luxury at its finest thanks to the SUV's available Natura and Laguna leather upholstery. Depending on your choice of trim, the interior colors will come in black, tan, and brown.
Drivers will love the 8.4-inch touchscreen display that's located in the center dash. In addition to that, Android Auto and Apple CarPlay are integrated into the system. Hands-free functions can be accessed via Bluetooth technology. For keeping your favorite devices connected, the Grand Cherokee offers 4G LTE Wi-Fi connectivity. There's also integrated voice control and Amazon Alexa technology.
If you're interested in experiencing the 2020 Jeep Grand Cherokee firsthand, we'd welcome you to try it out here at Hendrick Chrysler Dodge Jeep Ram FIAT of Concord.